"Before buying Vertical Blinds,
do yourself a favor and talk to me first!
I can save you hours and hours of
frustration. I'll show you what will work best
and look best for your specific situation anywhere
in your home. So many colors, sizes, and styles – it
can be so confusing –
I make it so easy!


Let my 20+ year interior design expertise ensure
you get the Vertical Blinds look you really want.
AT NO EXTRA COST!"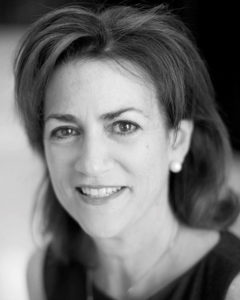 "Before buying Vertical Blinds,
do yourself a favor and talk to me first!
I can save you hours and hours of frustration. I'll show you what will work best and look best for your specific situation anywhere in your home. So many colors, sizes, and styles – it can be so confusing – I make it so easy! Let my 20+ year interior design expertise ensure you get the Vertical Blinds look you really want. AT NO EXTRA COST!"
The ideal choice for sliding glass doors or large windows,custom vertical blinds are designed in a wide range of materials, including fabric, vinyl, and aluminum.

The long slats of vertical blinds add the feeling of spaciousness and height and allow more light to filter in when open or closed as compared to horizontal blinds. As vertical blinds stack to the side when open, they create a completely exposed window for light to come through as well as an unobstructed view.
I partner with the finest industry brands, as well as working with local and independent manufacturers who can create the perfect look and best results for the best price!

Stately vertical blinds are the perfect solution for covering large areas of glass!
Vertical blinds are shades in which the slats, or vanes, run up and down instead of left-to-right like they do in Venetian blinds. This makes them the ideal choice for sliding doors or for rooms with a wide window expanse that's difficult to cover with other window treatments. Vertical blinds are more effective at blocking out light over large windows, than a standard covering like curtains, unless you choose blackout drapery options.
I offer very stylish fabric vertical blind options with incredible colors, finishes, and textures for a very sophisticated result.
Cadence® Soft Vertical Blinds offer a luxury aesthetic, featuring curved vanes that mimic sumptuous drapery folds.
Cadence® Key Features
Sound Absorption – The curved vanes provide superior sound absorption, improving a room's acoustics while reducing the intensity of outside noise.
Patented Headrail – A patented headrail design reduces light gaps and allows smooth, trouble-free operation.
Color Options – There are many color and material options available with Cadence Soft Vertical Blinds.
Experiment with color and texture with Somner® Custom Vertical Blinds available in a beautiful range of finishes and fabrics – from printed, statement textiles to light-catching metals. Enjoy superior light control and easy operation, suitable for a myriad of window styles, including trickier sliding-glass doors and bay windows.
Somner® Key Features
Large Selection of Colors & Finishes – Available in fabric, vinyl, and aluminum, Somner blinds offer the largest selection of colors and finishes, from smooth metal finishes to geometric patterns.
Reduce Outside Noise – Softex™ is a texturing process used to help reduce noise levels on some Somner louvers. The degree of sound control will depend on the fabric you choose, so if this is an important feature to you, be sure to discuss it with me.
A spectacular array of vertical blind solutions for every style and need.
Durable, easy to operate, and available In a wide range of colors and materials, Vertical Blinds are a cost-effective solution for reliable light control on your wide windows and patio doors.
Three Versatile Vertical Blind Solutions
Fabric – With light filtering options from sheer to room darkening, these classic blinds are available in a wide range of fabric colors to match any interior
Sheer – Sheer fabric verticals are machine-washable and give the appearance of drapery with the light control and privacy of a blind
Vinyl – A proven solution, these durable, easy-to-clean blinds come in a wide range of on-trend colors and embossed patterns
The vertical blinds of today are not just flat PVC slats – the very shapes of the blinds are much more sophisticated, for better closure, and with a look closer to draperies. And you won't believe the track mechanisms that have been developed, to ensure an aligned, even, consistent look. I'm here to help you sort through all of the available options, so make sure to contact me for a consultation!
Here's a video showing Graber vertical blinds covering sliding glass doors,in combination with roller shades in the living room.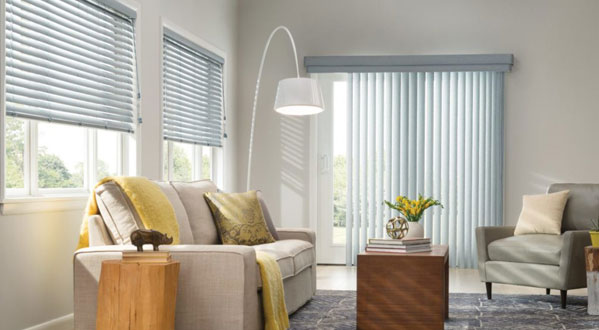 A lovely combination of matching vertical and horizontal blinds.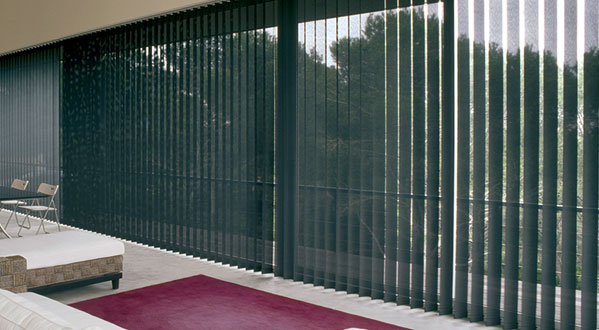 Sheer vertical blinds covering a wide expanse of window glass.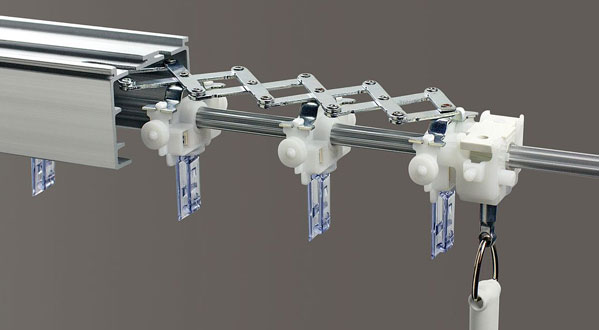 This Graber G71 headrail houses an accordion-style pantograph system that guarantees the vanes always stay an even width apart while operating, giving an aligned, consistent look. This is one example of many choices available to you.
Use my 20+ years of interior design expertise to help you select the perfect vertical blinds for your space!
Here's a gallery of some stylish examples of vertical blinds for your home or business.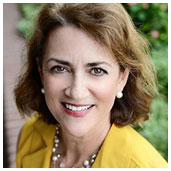 "My 9-Step Process and Guarantee is Why I Know You'll Love Working with Me!"
Here's a simple step-by-step process of how we'll work together and what to expect:

We'll start with a phone conversation to get acquainted and I can learn about your project. We'll discuss you and your family's lifestyle. And I'll have you describe your home and current interior styling and colors.

I'll ask if you've seen and liked any specific window treatment styles on TV, in magazines, online, or at a friend's home. Knowing all of this helps me prepare and present the right options for our first meeting.

I'll also ask if you have a budget in mind? This is very important and it helps me to determine the framework for my design expertise as it applies to your situation. It's important to me to not waste your time and disappoint you. For example, if you want seven double sets of plantation shutters and your budget is $2,000, I can tell you upfront, that it's not possible. But with that information, I can show you all the beautiful ways a $2,000 budget will also achieve your goals.

At the end of our initial phone conversation, I'll schedule a meeting with you to present product suggestions and take rough measurements of the areas you want window treatments for.

Within 24-hours of our meeting, I'll prepare a proposal for you to review and approve.

If you decide to move forward, I'll need to collect a 50% deposit. I accept all major credit cards. And I can even offer 0% financing!

I'll schedule a second visit to have my installer come to your home or business to take precise measurements. He will analyze the walls and surfaces to determine the best approach for your installation.

Once final measurements are taken, I'll prepare a factory order and will request payment for the balance. I'll also give you an estimated installation date.

We will do a seamless and professional installation with full clean-up – afterward, you won't even know we were there! All you'll need to do is enjoy the beauty of your spectacular new window treatments!
My Satisfaction Guarantee:
At Soho Window Fashions, I take pride in your satisfaction. My mission is to design and provide beautiful window coverings that you'll love, for your specific spaces, and at an affordable price and unparalleled service before, during, and after we work together. Because I work so closely with you in the beginning stages, there won't be any surprises, I'll make sure of that. Your window coverings will be measured to custom-fit each window, and professionally installed. Our installation is warrantied for the life of the product*. Additionally, the installation is fully guaranteed for professionalism and workmanship, and all products come with their respective manufacturer's warranties. If there are any product defects noted within 90 days, I'll handle getting suitable replacements. And whether it's 90 days or two years, I'm always available to assist you in arranging any replacements or repairs. The vast majority of my clients are repeat clients, and your satisfaction is always my top priority!
*Normal handling, wear and tear; I cannot assume responsibility for the mishandling of product or mechanism.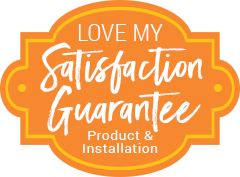 What my clients are saying

"Dear Carmen – Thank you so much for your expertise, your attention to detail, and your patience with my "demands" for perfection. I really enjoyed working with you, and I LOVE the results!!! Till the next time."
– Betsy Corso, Orlando, FL

"As a professional writer who works from home, my work area is very important to me, but due to lack of space, my "office" has always had to perform double duty – second bedroom, etc. I contacted Carmen at Soho Interiors to help me solve the problem. Her solution was ingenious! I had a formal dining room in the front of the house that I did not use. She suggested turning an unused formal dining room into a beautiful open concept office area. She handled it all, making sure that the look of my office is "mine" but that it also flowed with the rest of the home. Thank you, Carmen!"
Maria Geraci – Melbourne, FL

"I have used Soho Interiors for at least 4 different projects both small and large in nature. Carmen has been extremely professional and trustworthy in the handling of the many phases of the projects, as coordination is key. She has been perceptive of my needs, preferences, and budget constraints. Carmen always provides honest opinions and practical solutions resulting in an environment which looks classy and feels inviting and warm."
Adriana Power – Melbourne, FL

"...Carmen Dick is a delight to work with! She's very professional and her work is always perfect! We've used her skills multiple times for several projects and have always been extremely happy with results!"
– Vicky Pope, Orlando, FL


Copyright © 2021 Soho Interior Design. All rights reserved.