Mirrors Reflect Your Image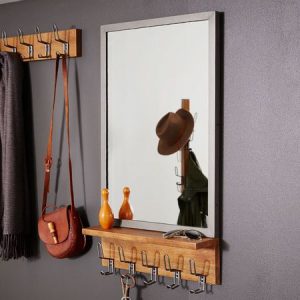 The most common reason to have a mirror is to view your own reflection, of course. But while you most certainly have mirrors in each of your bathrooms, and perhaps your bedroom too—you may not have thought to put a mirror in an entryway, mudroom or hallway! In these spaces, they're perfect for last-minute checks of your appearance before heading out the door. Decorating with mirrors can really open up a room or space, and bring extra light into places that could use it.
You'll be surprised how much you use and appreciate a mirror when placed, as this one is, near a set of hooks, a shelf or console where you can stash other items you may need to freshen up. Or, so you can easily grab your necessities on your way out the door.
This stylish idea has a convenience factor that's hard to beat, and luckily it's easy to find mirrors that are beautiful enough for even the grandest of entries. Let's look at a variety of ways decorating with mirrors can enhance style and functionality in your rooms.
Mirrors Reflect Light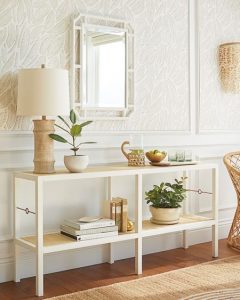 Here's a real "mirror no-no" when it comes to design: Try not to place your mirrors on walls that reflect other walls, or your TV setup, or even worse, just the ceiling (what?!). It really doesn't do much for your space.
Instead, opt for art on these walls (and don't angle anything towards the ceiling) and place your mirror where it can catch the light from a window or the rest of a nice, open room, instead.
Dark rooms, or dens without windows, would especially benefit from a mirror. They help bounce natural light around the room, even if it's coming from a lamp or a ceiling light. For extra sparkle at night, consider placing candles or lamps in front of a mirror that hangs above a console table or buffet for a truly glowy atmosphere.
Mirrors Reflect Space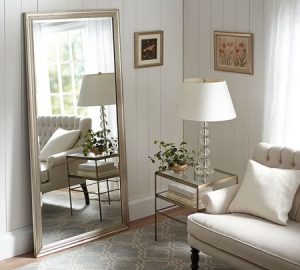 Just as mirrors can give the illusion of more light, they can also make a room feel larger than it really is, which is great when you're living in a small home or apartment. When hung low or when propped against a wall, large mirrors, in particular, give the illusion of more space.
Mirrors in tight spaces and small rooms are great, as they can reflect a larger area, even extending into adjacent rooms. Although it is true that larger mirrors come with heftier price tags, they also take up lots of wall space, which can be a benefit if your room is art-challenged. (And it will cost less than framing tons of smaller pieces.)
The sense of depth that mirrors lend to small spaces may be worth the higher price. And, consider turning lots of smaller, inexpensive mirrors into a larger singular installation.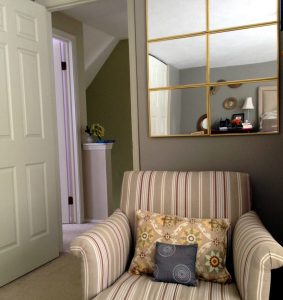 Mirrors Reflect Your Style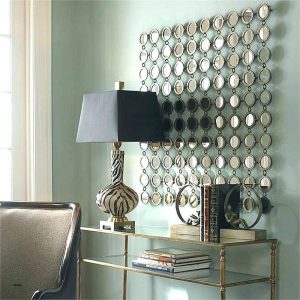 As I've discussed so far, mirrors can serve a lot of important purposes beyond just looking pretty and helping make sure you look good, too. They are also useful accessories to choose for small or dark spaces because they give the illusion of more space and light—both of which are also good things.
In addition to these practical purposes, the sheer variety of mirror styles, colors and shapes available these days make it fun to choose one (or more) for your space. Sometimes, you don't need a mirror, you just want one. Maybe, it would make a great accent in your room, or you found it at a flea market and couldn't say no, or the color of the frame just spoke to you.
A driftwood mirror is perfect for a coastal space, while no mid-century modern home would be complete without a starburst mirror. Mirrors can have rustic wood finishes, mosaic tile borders, lacquered baroque frames, gilded leaves, leather with nailhead trim, and even fur or cowhide frames.
Here Are Some Tips on Decorating with Mirrors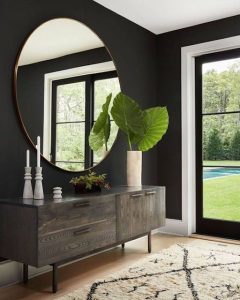 Mirrors are great for so many reasons—they reflect light, they open up spaces, and they just make rooms look better in general. But before you start hanging them left, right, and center there are some things to keep in mind. Here are a few tips on how to decorate with mirrors.
Consider the Reflection
As I indicated earlier, before you hang a mirror take into account what is across from it. While we often hang mirrors based on available wall space, it's important to think about what will be reflected in it. When hung opposite an important architectural element, painting, or piece of furniture it will give that item even more importance—as it will if hung across from something unattractive. Also, whenever possible hang a mirror across from a window. It will significantly increase the amount of light in the room.
Placement Matters when Decorating with Mirrors
Aside from placing it across from something visually appealing, a mirror should always be hung at the appropriate height for the space. Unlike art which should always be hung at eye level, mirror placement will depend on what you want to be reflected. Eye-level works in many cases, but higher or lower can work better, depending on the situation.
Think Big with Mirrors
Don't be afraid to use a large mirror in a small space. Mirrors create the illusion of depth and space so they can really help make a small room feel bigger. A full-length mirror leaning against the wall is a great decorative element to use in a tiny room. Mirrors are also great for narrow spots such as hallways. And a mirror wall can completely open up a room!
Decorating with Mirrors can Create a Focal Point
Mirrors make great focal points. It's why they are so often placed above mantels and dining room buffets. Hang sconces on either side and you've got the perfect focal point in any room.
Don't Forget About Style
Mirrors can be modern, traditional, edgy, classic—pretty much anything. It all depends on the frame. Consider what effect you want to create when choosing a mirror in a frame. A beautiful Chinoiserie mirror will have a far different effect on a room than a simple wood frame. There's also the mirror itself, smoky glass and antique mirrors with imperfections can be very moody and greatly contribute to the look of a space.
Hang Mirrors Properly
A small nail hammered into the wall won't cut it. Use proper wall hooks or picture hangers and be sure to use two (one at either end). This will ensure the mirror is held flat to the wall. A wire hung on a single hook is not only dangerous but it can cause the mirror to rest against the wall at an angle, distorting the reflection. If the mirror is very heavy, have it hung by professionals.
Use Several Mirrors at Once
Don't be afraid to create a gallery wall with mirrors. Like with any photo wall, treat them as one unit when deciding on placement. That said, a mirrored gallery wall will look best in a room with little clutter. All of the frames can be visually busy—add that to a small, cluttered room and it could be too much.
About Mirrored Furniture
Mirrored furniture has gone through a few periods of popularity. While it can be great for reflecting light and elongating walls, don't use it in a room that has a lot going on. The extra reflections will just be too much.
Everybody loves mirrors, for a variety of reasons, but using mirrors properly can be a bit tricky. What they say about real estate applies here too: location, location, location (and laying flat against the wall). Spoiler alert: the key takeaway is to always consider what is being reflected in a mirror, and that will dictate where it's hung. I hope you like these tips about decorating with mirrors! Let me know what you think! If you'd like me to consult for finding your perfect mirror(s) and that perfect location, I'm always here to help! I'd love to hear from you, just click the contact link on this website and message me here, or you can email me at: carmen@sohointeriordesign.com And, of course, you can call me anytime at: (407) 947-7718.